READ TSP'S ANNUAL REPORT
ONLINE with VIDEOS!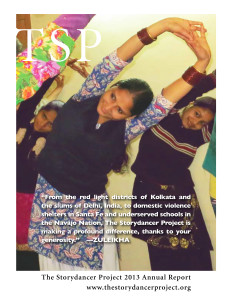 NOURISHING THE ROOTS

OF WELLNESS AND THE

HEART OF RESILIENCE

The Storydancer Project 2013
Annual Report is now available
and/or
Download the PDF Print Version

2013 – a pivotal year of expansion. New programs, pilot projects & trainings with each of our partnerships and a prize-winning presentation at the international level. Never before has TSP been so clear in purpose, confident in action and bold in envisioning the future. For your support of our programs, mission and vision, we could not be more grateful. We hope you enjoy reading our 2013 Annual Report.
DONATE ONLINE


MAKE A SECURE ONLINE DONATION HERE
MAIL A TAX-DEDUCTIBLE CONTRIBUTION
The Storydancer Project
PO Box 31099
Santa Fe, NM 87594-1099
FOR INFORMATION
projectdirector@storydancer.com